Admiration For Eric: Quotes
---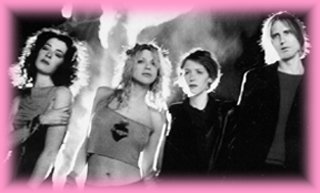 ---
ERIC ERLANDSON, Hole, '95: "We like little Beck, 'cause he's like the little kid brother of the tour."
---
"She's going over to Nine Inch Nails." --Hole guitarist Eric Erlandson on the fate of Oscar winner wannabe and sometime Hole lead singer Courtney Love.

Actually, Erlandson was kidding--I think. I ran into him at L.A.'s red-hot lunch spot, Red. I wanted to know if all this Hollywood hype about his chic chanteuse would hurt Hole.

"No, I don't think so," said the string strummer. "I mean, she's still with the band, and besides, she was really good in the movie. I mean, she was a lot better than that other guy."

As in, Woody Harrelson? "Yeah. I mean, come on."

Hey, it wasn't my idea to cast him!

I asked Eric if he was still dating Drew Barrymore, and suddenly that sandwich he was eating became irresistible. Suffice it to say, he no longer finds Drew delicious.
---
Erlandson leans forward. "Then the last two years ... The [1996] movie ['The People vs. Larry Flynt'] was three months. We wrote for a year. After we got through the tour, we took the time that we needed to grow, took our time writing instead of writing on the road and hopping into the studio like a lot of bands do and releasing a really sub-level record because they didn't take the time to grow and put out something that means something. "So we took the time to do that," he continues. " And then took a year making the record with a producer who is really into details and really takes a long time and likes to spend a lot of money."